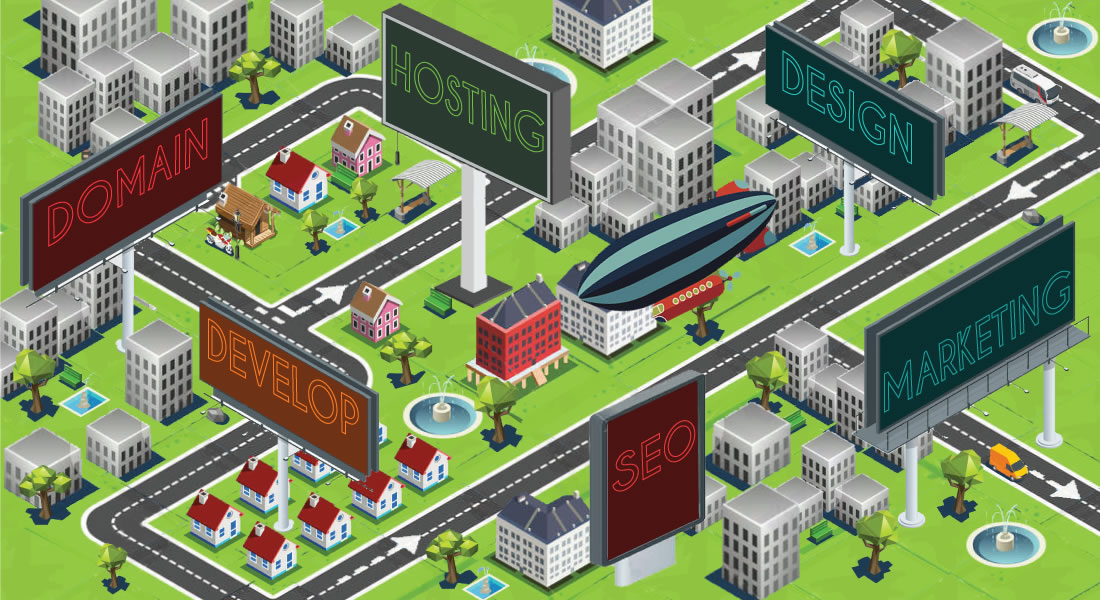 Domain
Purchasing a domain is a logical first step when creating a web site because you want your web site to be recognizable and to have a name that is easy to remember. It can be the whole or only a part of the name of Your the company or organization, provided the name is not already reserved or that it is not bought by someone else. After selecting the names you need to select the domain under which the address of your web site is registered, that is, whether you want it to be a national domain .me , .rs, .ba,  .co.me or one of the world's domain, such as .com , .net, .org. Lambda IT Solutions offers you the possibility of renting domains at very cheap rates per one or more years. Renting domain names for several years is always more cost-effective, since it is the practice among the world's Domain Providers that domain renewal costs twice as much of its initial registration. Price of standard non-premium domain used by 99% of companies and organizations in this region goes from 10 to 20 euros for a year, while some premium domains can fetch thousands and even millions of euros.
Hosting
After purchasing a domain name, the next step in creating your web site is leasing a physical space in which to set up the site, i.e. the hosting. Lambda IT solutions, in cooperation with famous American company Namecheap, offers you hosting rent at very reasonable prices. All servers of the company, whether it is on a shared or dedicated hosting, are redundantly connected thereby guaranteeing up-time of 99.9%. Our network is based on a separate Cisco / Brocade architecture, and servers have a direct connection to the world's largest global providers Level3, Highwinds, HE, Cogent and Integra, which reduces server access time to a minimum. We have a few packages of services to meet the least as well as the most demanding users. Whether you want a presentation web site of your company or online store with thousands of visits per day, our servers will provide you with maximum comfort, pleasant and safe web surfing for your customers.
Design
After completing the formalities regarding domain and hosting, finally it's time to deal with the development of your website. The choice of design is probably the most important step in the process of creating a web site, since it causes all of the following steps. Design must comply with certain standards to make your web site just as readable and visually appealing. Now all web sites do so to comply with standards of responsive design , that is, must be adapted to mobile devices, since more than 50% of internet traffic was just over mobile devices. When entering the content it is important to follow the pattern of so-called "inverted triangle" in which the most important information stand out at the top while the less important details go down below, always emphasizing the essential information, because users rarely read all of the text, but just the individual passages. Lambda IT can offer a wide range of templates  that will customize your visual identity make it unique, visually appealing and readable. If your company hasn't yet defined visual identity , we can provide you with the services of one of the designers  with whom we have long-term cooperation which will ensure that your logo  fully represent you and your business.
Development
The process of creating a web site consists of several stages. First, it is necessary to comply with all the requirements that we set at the design stage, so the visual identity remains unchanged as well as the functionality of the website. If your web site, in addition to presentation, requires some advanced functionalities, such as the functioning of the online store , online payment , advanced search and categorization of the products etc., it is necessary to code, adjust and test each of these features as well as their compatibility with each other in order to avoid possible hazards. The penultimate step in creating a website is the protection, to protect against possible attacks or unscrupulous visitors. Lambda IT offers its customers application of the SSL certificate as well as hardware and software firewall  in order to make visitors feel safe when visiting your website. The last phase is data entry, in which the selection and writing of the content, we can provide expert help to keep pre-designed level of transparency and readability of the website.
SEO
SEO (Search Engine) optimization is field of Internet marketing that gives an answer to the question: "How to make my website appear first on Google results?" by making your website more "visible" for internet search engines and making it easier to find for Your potential customers in a sea of similar websites, because what is worth to have the best products, the most beautiful site and the cheapest price if no one knows about you. We offer our clients a full service of web site optimization linking with Google Analytics  and Google AdWords  services as well as with social networks. SEO optimization depends on a whole range of variables, and sometimes it takes several months for your website to appear on one of the first pages of search engines. Throughout this process we offer constant consulting and analysis of gathered data to keep your marketing campaign focused in the correct direction.
Marketing
Marketing Campaign, which promote your web site, are an extension of the SEO optimization process and can not be one without the other. Based on the data we receive from You we devise a marketing campaign  that we want to attract as many people to visit your web site, informs about news in your company or buy the products you offer as an online store. Marketing campaigns are waged today on the Internet as much as in other media of public information, and unlike the commercials on TV where we are bombarded with products that we are not interested in, omnipresence of the Social Networks  allow us to target just those users who you define as your potential customers ( target marketing ). Based on the information we receive about visits of your website and the profile of visitors, we pivot the campaign in the direction that you set as the ultimate objective and timely respond to any changes in market or customer behavior. With our marketing experts, we assure you that your business will become known in a short period of time.